Fall 2019
2–4 weeks

Using p5.js, paper.js, and NLTK
Data Explorations
Exploring (and learning) ways to collect, parse, and tell stories with data
Mini Project 01:
Tweet Trends
Mini Project 02:
Women in Film
How can twitter activity reflect a user's interests and concerns?

I wanted to represent patterns of twitter activity over time, through the perspective of two different users. I focused on two students who lived through the shooting at Marjory Stoneman Douglas High School (MSD) in Parkland, Florida, and have embraced political and social activism through co-founding March for Our Lives (@AMarch4OurLives) with other student survivors. I compared their social media use and trends following political events in time. I used python and NLTK to scrape and parse tweents, and p5.js to generate graphics.

---
Visualizing Women in Film
with Audrey Zheng
The Bechdel Test, created by Alison Bechdel when it appeared in her comic
Dykes to Watch Out For
in 1985, examines the role of women in movies. It asks two questions:
1. Are there two, named female characters?
2. Do the named, female characters converse about something other than a man?
However, it remains a
shallow examination of female characterization
, and is limited as a tool for feminist critique. (It wasn't designing as a method for analysis! But when so many movies still fail to pass...) We wanted to examine how the most popular movies in our cultural psyche fared against not only the Bechdel Test, but other questions about the
role a female character has
in the overall narrative.
Audrey and I entered in data for 200+ films, including cast ratio, bechdel responses, and other character informataion. She prototyped the interaction of the site, while I used the
data to generate the main visualization
with paper.js, in order to create a spatial experience, with the metaphor of paths and gateways. Read about the full process
here
.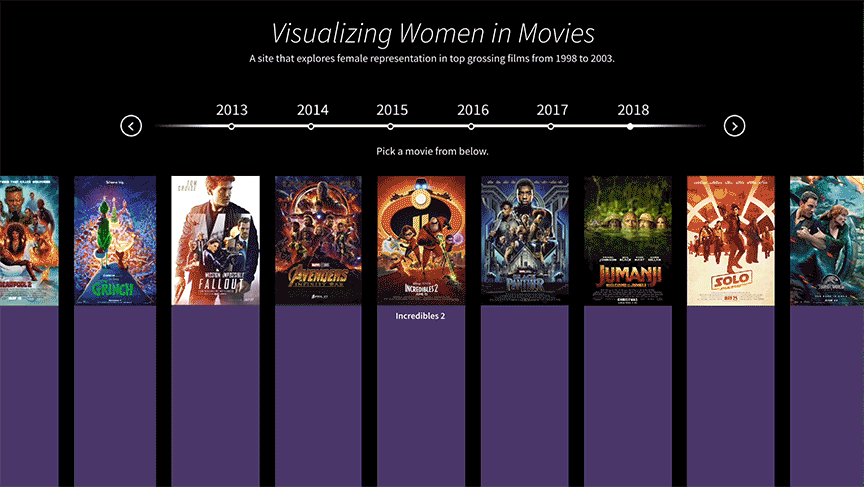 Comparing male to female cast members, top 10 highest U.S. grossing films, 1998–2018